25may8:30 am2:00 pmit@cork TechFest – 25 May 2022
Event Details

it@cork is delighted to announce TechFest 2022 which will take place on May 25th 2022 in the Clayton Hotel, Cork. Tickets are now on sale and be sure to get yours early to avoid disappointment. Priority tickets will be given to all it@cork members.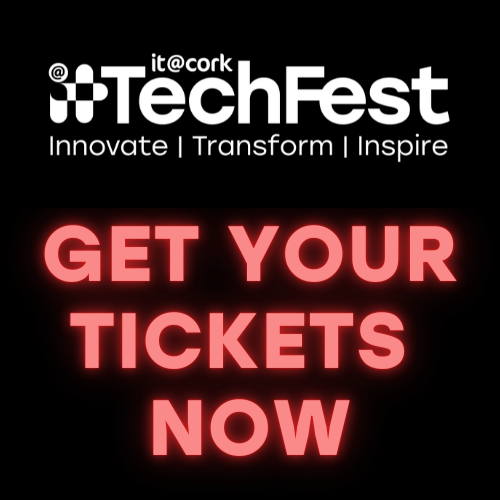 This highly engaging technology festival will include keynotes and expert speakers, interactive panel discussions, workshops, one-to-one networking opportunities and an exhibition area. TechFest is our annual flagship tech conference showcasing legends, luminaries and thought leaders on everything tech and future forward.
We are excited to be bringing TechFest 2022 to you as an in-person event where there is a real opportunity to connect with industry peers, subject matter experts and thought leaders. With two years of in-person networking to catch up on, and a real appetite among members to connect and collaborate, the event is expected to be a sell-out.
The MC for the event is Jonathan McCrea who is a multi award-winning science and technology broadcaster. Jonathan is a broadcaster, producer and founder of Whipsmart Media and is an expert in future trends with a background in technology. As a producer and presenter, his work has reached millions across various outlets such as Newstalk, RTE, Virgin Media and the Discovery Channel and earned dozens of national and international awards including two gold medals at New York Festivals. Jonathan was awarded a fellowship by the Atlantic Technological University for his work in science communication last year and sits as a judge for Katerva awards, the global sustainability innovation competition.
Attendees will hear from speakers that have transformed and adapted to succeed in the technology sector, as the world around them has changed. Following on from last year, we have selected themes, topics and speakers that will inform, challenge and energise attendees. Our Innovate track will showcase leading companies who have innovated to succeed and with the theme Transform, we will explore how current and future transformative technologies will impact the nature of work. In our Inspire track we will be challenging attendees to think big, explore possibilities and push limits.
it@cork TechFest Partner Events
This year it@cork is collaborating with various organisations in the South West of Ireland to bring the it@cork festival theme to life. You can check the many TechFest partner events here.
Innovate Track
The Innovate track will explore how innovation, in both technology and the way we work, can contribute to company growth. Ross Frenett will deliver the keynote as co-founder of Moonshot, an enterprise that puts ethics, evidence and human rights at the forefront of its aims, to combat online extremism that is a threat to society. The session will continue with a discussion on how companies innovate depending on their stage of growth and product, and the structures, investment and mindset that need to be in place.
Transform Track
 5G is enabling Digital Transformation of Vertical Industries. 5G technology brings faster speeds, lower latency, and greater capacity to name a few of its key characteristics. 5G will accelerate digital transformation across a wide variety of industries and enable new business models within these industries, including manufacturing, healthcare and transportation among others. In this session we will explore how 5G enables digitization and delivers value within the Manufacturing and Healthcare sector. This will include case studies from global 5G projects.
Inspire track
The application of Artificial Intelligence across a wide variety of industries and sectors is becoming more and more prevalent. As some fear that the increase in automation will affect human employment, others look to the opportunities that AI adoption provides and are inspired to develop solutions in areas such as Cybersecurity , Financial Services and Healthcare.  Showcasing specialists' from a variety of backgrounds join us at the Inspire track where you will hear leading professionals discuss how they develop and deploy AI to positively impact the world around us.
it@cork TechFest 2022 Speakers

TechFest Keynote: Mala Kumar, Director, Tech for Social Good at GitHub. 
Mala is a leading Tech for Social Good practitioner with a strong background in UX research and design. Using her deep knowledge of the tech and international development industries, she created four cutting-edge programs on the Social Impact team at GitHub that have engaged more than 20,000 people globally.
Prior to joining GitHub, Mala worked for the United Nations, INGOs and the private sector in tech for international development (ICT4D). Working in four continents and in English and French, she led the design and development of 10+ digital platforms that are still used.
Plenary session panellists: 
Dr Tara Shine, CEO at Change by Degrees.
Dr Tara Shine spent 20 years as an international climate change negotiator and adviser to governments and world leaders on environmental policy. She was Special Adviser to the Mary Robinson Foundation-Climate Justice and The Elders before setting up Change by Degrees. Tara is Chair of the Board of the International Institute of Environment and Development (IIED) and a member of faculty and lead facilitator for the visibility stream of Homeward Bound, a global leadership programme for women in science. She is co-facilitator of the Structured Expert Dialogue (SED) of the 2nd Periodic Review under the United Nations Framework Convention on Climate Change, a process to monitor progress and enhance delivery on Paris Agreement goals. Tara is a science communicator and TV presenter (BBC, RTE, Channel 4) and author of 'How to Save Your Planet One Object At A Time' published in April 2020 by Simon and Schuster. She presented the prestigious 2020 Royal Institution Christmas Lecture which aired on BBC4 in December.
Vikram Kunnath, Partner at EY
Vikram is an External Admit partner in the EY Consulting practice and the Lifesciences team in Cork, Ireland.  He has around 22 years of work experience with Global CXO customers primarily in the Lifesciences industry. Prior to joining EY, Vikram was working with Cognizant Technology Solutions as a Global Lifesciences Manufacturing solution lead. He has also worked with MNCs like Siemens, GE Lifesciences, and Tata Consultancy Services.
Vikram has strong domain experience in the pharma manufacturing supply chain with a deep understanding of API, formulation, large molecule, continuous manufacturing, cell and gene therapy. His work experience has also enabled Vikram build a strong appreciation of all applicable technology areas for Lifesciences to include manufacturing 4.0, smart factory solutions, cybersecurity, process automation, IOT and data analytics among others.
Dr. Marguerite Nyhan, Senior Lecturer/Associate Professor at UCC
Dr. Marguerite Nyhan is a Senior Lecturer/Associate Professor in Environmental Engineering & Future Sustainability at the National University of Ireland – University College Cork and a Visiting Scientist at Harvard University in Boston. While conducting her PhD in Environmental Engineering in Trinity College Dublin, Nyhan was invited to Massachusetts Institute of Technology in Boston to conduct research and was awarded a Fulbright Scholarship at this time. Following the completion of her PhD, she was hired as a Post-Doctoral researcher at MIT and led the Urban Environmental Research Team within MIT's Senseable City Laboratory. She was then a Post-Doctoral researcher at Harvard University's School of Public Health. Later, she was recruited by the United Nations in New York City, where she worked as a Research Scientist and diplomat.
With a background in environmental engineering, urban analytics and public health, Marguerite is interested in informing the design of zero carbon, sustainable, healthy and livable cities of the future. Nyhan has published groundbreaking research on using ICT datasets to evaluate urban dynamics at a city-wide scale; modelling emissions and human exposures to pollution; and determining associations between exposures and human health outcomes through environmental epidemiological modelling methods. Her current work also focuses on the human health impacts of climate change; and in harnessing emerging technologies in humanitarian efforts and sustainable development work to achieve the targets set out in the UN Agenda 2030 Sustainable Development Goals.
Sean Coughlan, CEO at ICBF
Sean has over 25 years experience in large technology project implementations, with experience in the US (Accenture) and Europe (PwC) before returning to his roots to help set up ICBF as one of the worlds leading agri-genetic improvement organisations. Sean has been Chief Executive of ICBF since 2012. ICBF is a non-profit co-operative structure owned by the industry stakeholders, with the aim of maximising sustainability (environmental, social, economic) in the national herd.
Innovate Track
Innovate Track Keynote: Ross Frenet
t, Founder and CEO at Moonshot 
'How ethical business models can drive change' – Exploring Moonshot's work battling terrorists and organised criminals online, Ross' keynote will focus on how ethical business models can drive change. 
Moonshot is an organization that uses technology to disrupt and counter online harms globally. Throughout his career, Ross Frenett has worked to bring technology to bear on the issue of violent extremism. He pioneered an entirely new approach to combating violent extremism – online interventions – and has overseen pilot testing of experimental methodologies to deliver content to vulnerable individuals online. Ross previously served as Director of the Against Violent Extremism (AVE) network, a global network of former extremists, defectors and survivors of violent extremism seeded by Google Ideas. In this role, Ross supervised the setup and expansion of this program, working with hundreds of former extremists across the globe to advance efforts to deradicalize and disengage individuals at-risk of violent extremism. In June 2020, Ross was appointed the co-leader of the Communication & Narratives Working Group of the EU Radicalisation Awareness Network (RAN).
Innovate Track Panellists: 
Donagh Kiernan (Facilitator) – Founder & CEO at Tenego
Donagh is an International Software Sales Channel Development expert and an Advisor and Mentor to Business Owners / CEOs. Donagh is Sales focussed, Entrepreneurial, Creative in Business Ideas and Business Development and has a Broad Network of Contacts in Business Community and Technology Sectors. Donagh has 30+ years of experience of technology development, sales and business ownership, investment and management. Starting as a Software Developer, he developed to business founder/owner/manager, Business development, sales and marketing of technology.
Damien Daly, CTO at Glofox
Damien is an influential, dynamic leader in the information technology and services industry. Damien also has a proven record in scaling engineering organisation and setting out technical strategy with demonstrated problem solving and analytical skills. Damien is highly effective communication skills with ability to develop managers and people.
Sinead O'Donoghue, Director and Cork Site Lead at NS1
Sinead is a high performing and highly motivated technical delivery management professional, with a superb track record for managing and delivering complex, cross-functional, projects. Multi-skilled individual, who enjoys challenging and diverse roles and is confident working with technical experts from any industry. NS1 delivers smart network control, to optimise every digital interaction, and enable customers to confidently exceed digital demand expectations.
Ben Butler, Head of Operations at Evervault
Evervault is a data encryption company enabling developers to put security first without disrupting their existing workflows. Previously, Ben was an early employee at Stripe, helping build out their Dublin and Seattle offices.
Colman O'Flynn, VP ISG Transformation at Dell Technologies
Colman O' Flynn is Vice President of Business Transformation at Dell Technologies. Together with his team, he helps organisations across a wide variety of sectors and locations transform to achieve their strategic goals. With more than 25 years' international experience in business strategy and operations management, he has played a crucial role in delivering several flagship initiatives at Dell Technologies. These include the creation of the introduction of Agile software development methodology, innovative Go to Market and Supply Chain programs and membership of the 2016 merger's Value Creation Integration Office. Colman is also Executive Sponsor for the True Ability Employee Resource Group in Europe, Middle East and Africa.
Inspire Track
Inspire Track Keynote:
Rois Ni Thuama PhD, Head of Cyber governance at Red Sift
Rois is a doctor of law and subject matter expert in corporate governance, cyber governance and risk management. Red Sift is one of Europe's fastest-growing cybersecurity companies. She works with key clients across a wide market spectrum including governments, legal, finance, and banking, to spread a contemporary understanding of cyber threats, risks and liabilities across diverse audiences and stakeholders to drive effective change. Rois regularly writes and presents content that is focused on significant cyber threats, the latest trends and risk management. She is known for her straightforward and consistent communication style that keeps the landscape clear and delivers actionable insights for businesses of all sizes.
Inspire Track Panellists: 
Trucle Nguyen, Chief Commercial Officer at Altada Technology Solutions
Trucle is a deeply analytical and data-driven people leader with two decades of increasingly senior go-to-market (GTM) roles leading global teams in enterprise sales, customer success, and product.  Her industry experience ranges from running client-facing teams in pharma (Novartis), to professional services (Axiom & GLG) and asset management (Bridgewater).
Kieran Towey, Applied Intelligence Lead (Managing Director) at KPMG
Kieran has over 20 years' experience working as a Data Scientist, delivering data powered solutions to large global and domestic clients. Kieran has a mathematics and statistics academic background and excels in building and growing data, analytics, and artificial intelligence capability, including specialist teams and technology solutions. Kieran is a Thought Leader in the field of analytics and has travelled the world, working with clients across all industries and speaking on the conference circuit. Kieran's is passionate about Innovation with Data and keeps a constant watch on the Emerging Tech Ecosystem to identify new capability that can help solve business and societal problems.
After winning the BT Young Scientist at 17, Greg founded Inferex to accelerate the global impact of AI. He and his expanding team are currently building a deployment platform to automate production MLOps.
Transform Track Keynote:
David Mohally, Business Innovation Lab leader at Huawei SPO LAB
Dave has over 25 years experience in the Telecommunications sector working with many of the leading IT and Telco vendors including Huawei, IBM, Lucent and Ericsson. Dave has extensive experience across product management, business model design, business case design, use case design, solution design, business model development, customer experience management and big data analytics.
Time

(Wednesday) 8:30 am - 2:00 pm GMT